Writing a formal letter
SENDER
–    Your name + address + phonenr. and  e-mailaddress
Example private person and professionally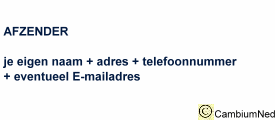 DATE & LOCATION
–    Place a comma after the town name.
–    Write out the entire date (so not: 05-06-'07).
Example


ADDRESSEE

–    The address should be the same as on the envelope
–     Don't forget the name of the person and / or company you're writing to
Example private person and professionally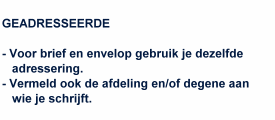 CONCERNING
–     Here you give a short indication of what the letter is about
THE START OF YOUR LETTER
–        This is where you address the addressee.
–         If you know the name of the addressee, write only their last name.
–         Write out words like 'van de'
FIRST PARAGRAPH
–        Always start the first paragraph with a capital.
–       Here you introduce your problem/explain why you're writing a letter.
–       Most people consider it rude to start this paragraph with 'ik'.
SECOND, THIRD, ETC. PARAGRAPH
In these paragraph you give some background information on your problem/subject, state what you think should be done, ask for advice or thank your addressee.
LAST PARAGRAPH
In this paragraph you give a short summary of your problem or proposal, and eventually what you expect the addressee to do next. If you want the addressee to do something for you, thank them in advance.
ENDING THE LETTER & SIGNING IT
Usually formal letters end with:
Met vriendelijke groet, / Hoogachtend,
Your signature
Examples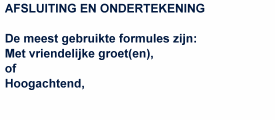 Your name
Optional: ATTACHMENTS
Sometimes  you may want to send one or more documents along with your letter. Give a short indication of the attachment(s) and number them.
Example